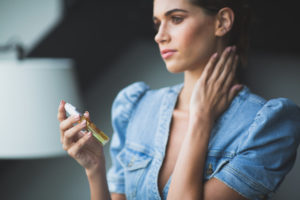 THE ART OF NATURAL FRAGRANCE
We love everything about Ambre Blends! This Indianapolis based, woman-owned business creates beautiful scents with high-quality, clean ingredients. Once applied, the oils combine with your body's natural chemistry to create a scent entirely unique to you.  Keep reading to find your favorite scent.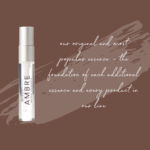 Ambre
This warm, gender-neutral Essence will grab the attention of any passerby. With notes of deep woods and a clean, smokey undertone, this oil provides a long-lasting scent that won't overpower you! Historically, amber oil has been used in medicine and as an aphrodisiac, so it's no surprise this scent has been described as "flirtatious." Don't be surprised when you receive compliments from strangers!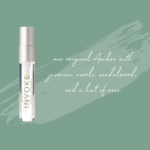 Invoke
The Invoke Essence begins with a solid foundation of the Ambre signature Essence. You'll smell the deep woodsy notes with the addition of jasmine, neroli, sandalwood and a touch of rose. Those who use Invoke have reported that it smells like "being sun-kissed while walking in a garden with exotic blooms."
Solace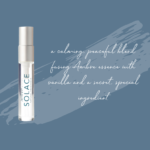 The Solace Essence Natural infuses the original Ambre Essence with a tenacious, warm vanilla, creating a calming, peaceful blend. One review stated, "This is not a gourmand vanilla, but rather a freshly laundered clothes hung-out-on-the-line in the sunshine vanilla." Like all of the other Ambre Essences, this Essence is also gender-neutral!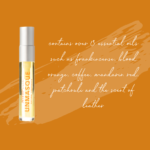 Unmasque
This Essence combines the Ambre signature essence with thirteen other essential oils including frankincense, sandalwood, clove, black pepper, mandarin, coffee, blood orange, and notes of leather. It can be described as warm, sweet, and clean! The essential oils provide grounding and allure.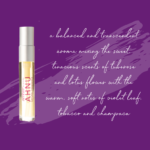 Ahnu
The Ahnu Essence is a spiritually grounding and earthy scent. It combines sweet notes of tuberose and lotus flower with the warm notes of violet leaf, champaca, and tobacco.
SOMETHING NEW – INTRODUCING AMBRE BLENDS SOLID ESSENCE!!!
Ambre Blends Fragrances are now available in a solid!  The formula is still very clean and simple using only two ingredients in addition to their pure Ambre Blends Essence – sunflower wax and olive wax.  The beautiful thing about a solid essence is it moisturizes and hydrates your skin during application which helps radiate the scent. The more hydrated your skin is, the better the scent will radiate. Simply apply the solid essence by scooping a bit out of the jar and place it directly onto forearms and rub them together.  Now you have a new way to wear your favorite scents.
Already wear Ambre? Share your favorite scent with us in the comment section below!