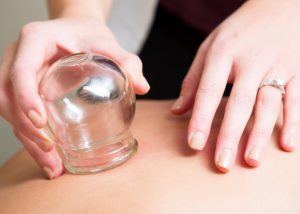 We are thrilled to be offering Massage Cupping Therapy at Tyler Mason. This is in no way a new concept and in fact has been documented to originate in early Egyptian and Chinese medical practices. We're so glad that Sara, one of our talented massage therapists, pursued additional study in this technique and is now practicing it in our spa.  Sara became interested in cupping therapy before she even went to massage therapy school.  She experienced a chronic dance injury that flared up before an important performance and cupping sessions paired with deep tissue massage allowed her to dance pain free.  One of the things she loves most about her career is that she helps people feel better and cupping therapy is just another way for her to do just that.  This service is so unique and beneficial that it is a featured service in our spa and has secured a spot on our new Fall & Winter service menu. Read on to learn more about this ancient practice and find out if it's something for you!
What is Massage Cupping Therapy?
Sara has been trained and certified in the ACE massage cupping therapy technique, which combines the ancient tool of cupping with a modern twist.  During your service , Sara positions specialized cups over the area of the body to be treated. The more traditional method involves inserting a flame into a glass cup to create the vacuum, but we take a more modern approach with plastic cups and a suction gun. The suction level can range from light to heavy, and the movements performed by the therapist can be invigorating or even relaxing.  The sensation is truly indescribable but doesn't hurt, most experience it as a deep warmth and a tingling sensation where the cups are placed.  You'll also just feel a profound state of relaxation as it helps relax your entire nervous system but you'll also have a new ease of movement in the treatment areas.
ACE massage cupping bodywork is versatile and can easily be modified to accomplish a range of techniques, from lymphatic drainage to deep tissue and fascial release. Basically this type of body work uses suction to lift tissue as the cup moves across the skin. This creates space and separation in the tissues that allows the therapist to work more effectively and comfortably on the client. It's like getting the benefits of a deep tissue massage without the deep pressure that type of massage requires.
What are the benefits of Massage Cupping?
Cupping therapy draws the inflammation out of muscles and can help bring relief to chronic and acute pain.  Tense muscles are relaxed quickly and easily and is wonderfully effective as an addition to a massage – allowing you to get more of the benefits from your massages.  It can also release scar tissue, reduce painful trigger points, improve blood and lymph circulation, relieve pain, promote mobility and range of motion, improve mature scars and decrease toxins within your body.
Who is it for?
Everyone! However if you experience one of the following symptoms you may really enjoy the benefits that cupping therapy provides.
· Pain/tension
· Swollen legs/feet/arms – Lymphedema
· Tension headaches/migraines
· Chronic issues: Fibromyalgia, Neuropathy, Degenerative Disk Disorder
Sara has seen great success with this new modality on her own massage guests and we want to share some of these examples with you.  She has a client that had a stroke with partial paralysis of their right arm and was able to move fingers and has also seen reduced lymphedema and neuropathy in legs and feet.  Scoliosis clients have seen significant reduction in muscle tension and a decrease in lateral curvature of the spine.  A client with chronic migraines experienced less pain days throughout the week and better sleep.  Clients with upper body tension and pain due to working at a computer experienced increase in range of motion and less muscle rigidity.  Athletes have experienced pain relief post workout and less delayed onset muscle pain.
What to expect from Cupping Therapy…
Before Your Service: You will consult with your massage therapist to identify your problem or pain areas and work toward a goal.
During The Service: Massage lotion or oil will be applied to help facilitate smooth movement during the service and then cups will be strategically placed on your skin. You will feel a light suction, slight pressure and stretch as the cups glide and work deep into muscles. To aid with high tension or muscular knots, cups may stay "parked" in a specific area (usually where the muscle attaches to the bone or joint) for anywhere from 3- 10 minutes.  The entire back may be treated, including the neck, shoulders, middle and lower back, and sacral area. The hip and thigh areas may also be treated – actually almost every area of the body responds to this unique treatment.
After The Service: You may experience something called a "Cup Kiss." It is a slight discoloration where old blood and toxins have been pulled to the skin's surface to be drained out of the body through the lymphatic system and may last 1-2 days. You may also experience slightly red, itchy, or sore skin around cupping sight but nothing painful. Drink plenty of water to help your body get rid of all those toxins.
Ready to try Cupping Therapy?
This new add-on will take your massage to the next level! Add this service to any of our massage services with no additional time! You can also schedule cupping therapy sessions with no massage for $78 (30 min) or $108 (60 min).
"Realizing the benefits of massage and the importance of alternative therapies, I went back to school to with the goal to help other athletes and performers. Over the past three years I have seen massage help all people; from those with high stress jobs causing postural issues and pain to those with chronic conditions and illness. I became certified in cupping in May of 2022 and am so proud and thrilled to be offer this service to my clients at Tyler Mason." – Sara L., Tyler Mason Massage Therapist
Want to learn more about our certified Cupping Therapy Massage Therapist, Sara? Read more about her here!